One of the latest and greatest cooking appliances is the convection oven. Cooking became more convenient than ever with these top-quality ovens. You must have heard how convection ovens can speed up cooking time without compromising the taste and this result can't be achieved with the traditional oven.  When you're ready to own one for yourself, you may be overwhelmed with all the options that are out there. Now we will help you to speed up the process of choosing the best quality convection ovens among top-rated convections.
The Best Convection Ovens to buy in 2023
The product designed by Breville will take your cooking to a new level. The philosophy used by the company makes this oven a smart oven, which tells that different food requires different methods of heating like food that needs to be baked requires to cook evenly and the meat needs to be seared at the top. Most of the toaster ovens fail to distribute this eat in a proper manner that suits various foods. No matter what food you are preparing,  it will adjust the heating distribution so that you can get perfect results.
Features
It has been launched with stainless steel housing with a ribbed plate and can be easily cleaned.
It comes with a Non-Stick Interior with 3 rack positions.
13" pizza and 6 slice toasts can be cooked in this oven.
It contained a tempered glass door.
It comes with 5 quartz elements with Element IQ for smart cooking
Time and temperature can be calculated on Black-lit easy-read LCD screen which illuminates Orange during preheating and Blue once completed.
9-preset cooking functions are there for baking, boiling, cookies, pizza etc.
It comes with a temperature and time dial with an auto shut-off function.
The cooking time can speed up with this versatile Oven Pro Plus from NuWave. This great oven uses conduction, convection, and infrared technology for convenient and quick cooking of food which can produce succulent meat, fish, vegetables, and more. This oven contains an upgraded amber Polyetherimide dome, black base, and digital panel, reversible cooking rack, second cooking rack, porcelain enamel liner pan, and stainless steel extender ring. Continuously up to 10 hours of cooking can be done to barbecue, roast, grill, back steam, and air fry various foods.
In this oven you can cook with pre-set temperature or a digital panel can be used to adjust temperatures by one degree between 100 and 350 degrees.
Features:
This oven can cook in infrared, conduction, and convection cooking.
This domed oven uses 75% less energy and 70% faster cooking than standard ovens to provide quick and easy meals.
It has different settings like warm, reheat, and delay settings and defaults to 155 degrees for 2 hours.
The Delay timer begins cooking at the time you select.
It can cook up to 16 lb. turkey or 14 lb. ham.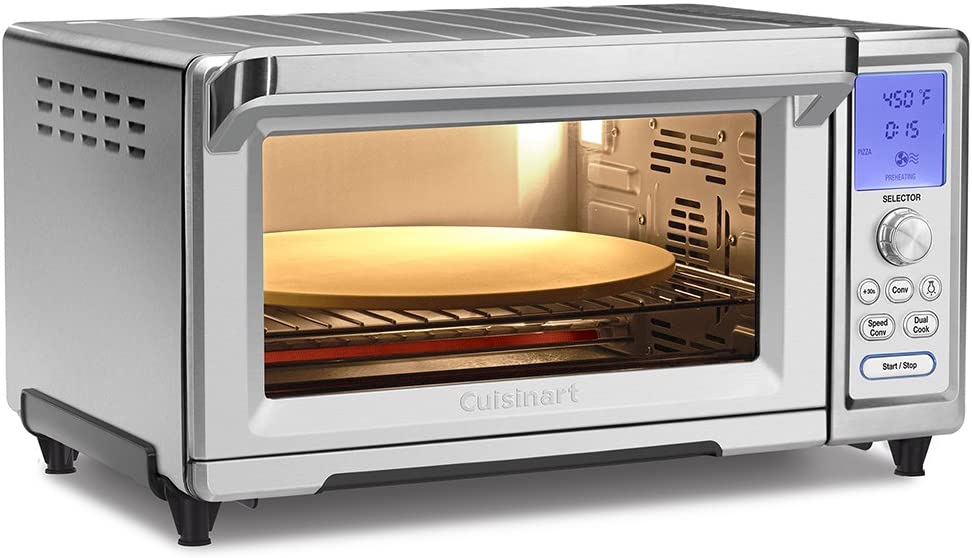 As we all know Cuisinart launches some of the top-rated kitchen appliances and this convection toaster oven is a great addition to their family. It offers 15 cooking functions and special settings for speed convection, sandwiches, and bagels that going to amaze you with the results of the cooking. The perfect result can be achieved with 1875 watts which provide quick heating.
Features
13" pizza and 9"x 13" baking pan can be fitted in this spacious 0.95 cubic-foot capacity oven.
It contains 15 cooking functions, including Dual cook and speed convection. It also has a door sensor to activate the oven and auto-slide out rack.
Another great feature like digital control with a large blue backlit display, interior light, adjustable 2-hour timer, and 2-hour automatic shutoff.
Consistent results can be achieved by exact heat sensors.
Oyama Turbo Convection Oven cooks healthier food by using super-heated circulating air to cook food. This appliance can be used to broil, back, roast, and grill at a quick speed. As this oven cooks food with only super-heated air, so you can roast full chicken or grill a steak, this will give a perfect result every time without burning. It contains a 10.5-liter glass cooking container which is high-temperature resistant.
Features
Temperature and timer dial controls
The temperature can be easily adjusted up to 450° or the cooking time for custom use. Visual notification can be achieved by a temperature-ready indicator.
1300W of power ensures reliable operations.
All the functions can be achieved like baking, grilling, steaming, and roasting.
It is a dishwasher-safe product and its glass can also be cleaned easily.
It contains separate dials for setting temperature and cooking time.
It includes 2 wire cooking racks, plate tongs, and an instruction manual with recipes included.
De'Longhi launched a unique convection rotisserie toaster oven that can make a complete meal for your family. It has an automatic adjustable temperature that won't fire upon every meal and it's large enough to make an entire meal so it is the best substitution for your conventional oven. It has a large enough interior which can cook 12" pizza or can bake an entire and side dish. Rotisserie is used in conjunction with the baking pan and the interior has a non-stick finish, so it makes cleanup a breeze. This oven also supports features like bake, defrost, broil, toast, slow bake and keep warm settings for convenient cooking.
Features
It comes with a multi-function 6-slice toaster with rotisserie spit.
It includes 20 liters of space in which 12-inch pizza can be placed. It also has a removable crumb tray and a nonstick interior.
All other removable accessories are also nonstick like a baking pan, broil tray, and flat rack.
Conclusion
Nowadays customers are choosing top-rated convection ovens so that they can get consistent performance. These ovens allow you to cook more efficiently with the less use of energy and time. Once you will choose these top-rated ovens, you will get amazed by their easy handling features. So enjoy dishes that are better than any traditional oven and acts smarty in fractions of time.