Finding the best knife sets today can change your cooking experience to a whole new level. It's no wonder that knives and cutlery sets are an essential part of any kitchen.  Having the right knife set will make your kitchen experience more enjoyable and pleasant.
Nowadays efficiency and effectiveness are key to becoming a successful cook. In this short but to-the-point summary is a detailed breakdown of the Best Knife Sets of 2023 after reviewing the top 5 cutlery sets for this year.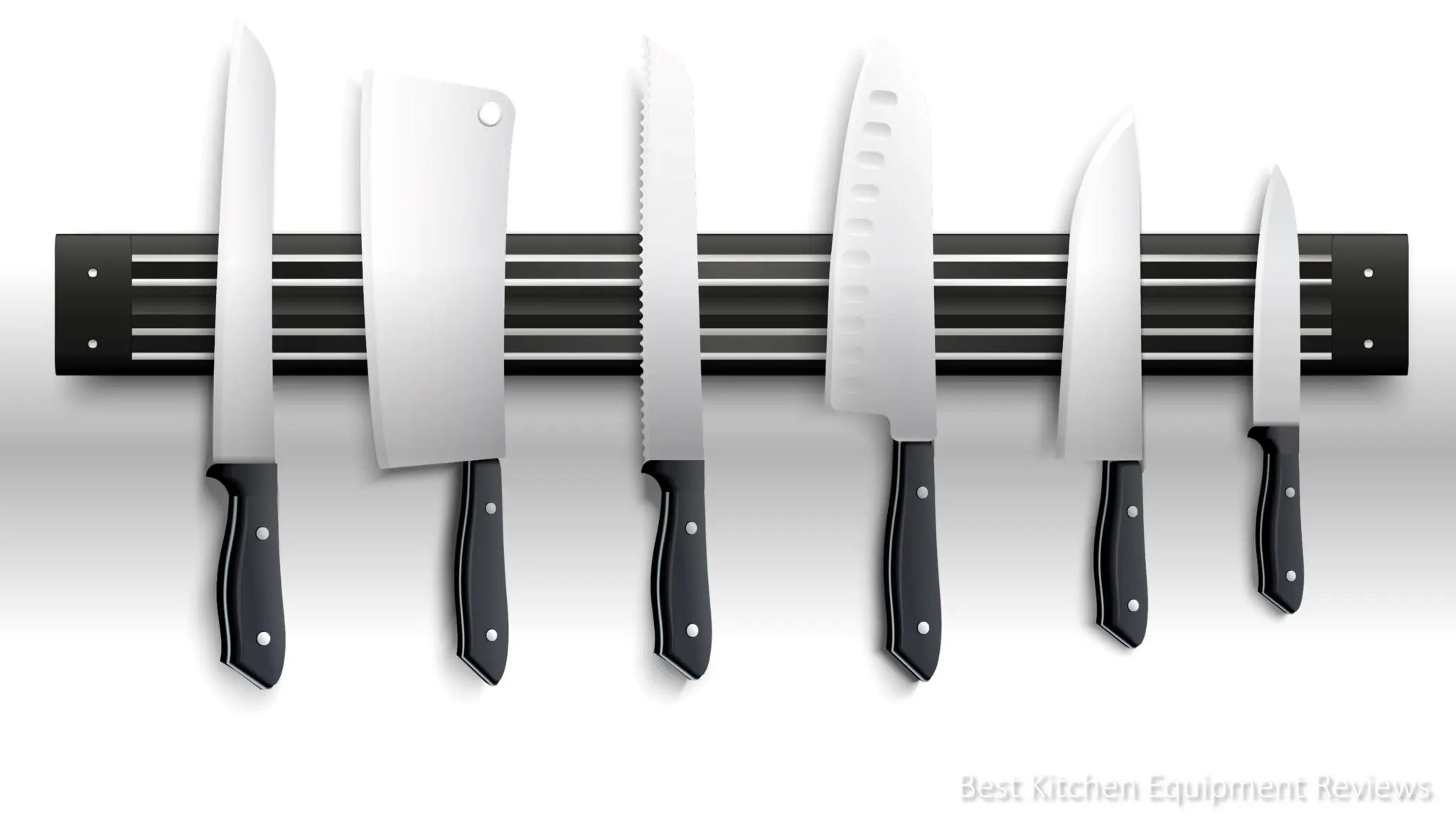 What are the best kitchen knife sets for this year?
1. Mercer Culinary Genesis 6-Piece Forged Knife Block Set
2. Chicago Cutlery Fusion 17 Piece Knife Block Set
3. Professional Eclipse 9 Piece Chef's Knife Set with Zip-up Carry Case
4. Ginsu 12-Piece Chikara Signature Series Cutlery Block Knife Set
5. Wusthof Classic Knives Cutlery Set with Storage Block 12 Piece 
How we Picked the top 5 Knife sets:
As food enthusiasts, cooking is a major part of our life. We picked the 5 best knife sets based on these 4 criteria:
Performance: How the knife Operates in different conditions cutting various objects. 
Durability: How long the knives stay sharp and how strong is the material used in manufacturing.
Design: How it looks in General, colors, Modern or old look, clean or complex design, etc…
Price: How much it costs compared to other brands with similar quality   
Below are "Best Kitchen Equipment Reviews" findings after testing and comparing the stated criteria for the 5 best knife sets for 2023
The Best Knife Sets to Buy in 2023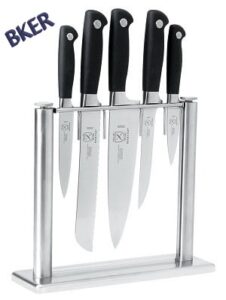 | | |
| --- | --- |
| Rating |   4.5 / 5  |
| Price | $145.55 |
This Genesis 6-Piece kitchen knife set is a must-have item for all kitchens. Mercer is always a brand that focuses on high quality in the design and the material.  It's a fully forged set that contains 6 pieces of the highest German quality on the market today.
| | |
| --- | --- |
| What We Like "Pros" | What We don't like "Cons" |
| Best Value for Money | Rust if not properly maintained |
| Glass Block Set | 6 pieces Only |
| German Steal "Very Sharp" |   |
Product Description:
6-piece Genesis Collection knife block set and  tempered glass block
3-1/2-inch paring knife
5-inch utility knife
8-inch chef's knife
8-inch bread knife
6-inch boning knife
glass knife block
Single-piece forged German steel, no-stain blades
Black Santoprene nonslip handles
| | |
| --- | --- |
| Rating |   4 / 5  |
| Price | $129.99 |
This 17-piece professional knife set is the best offered today for all Modern Kitchens. The strength of the blades of this professional knife set is the result of many factors combined. The high carbon Stainless steel blade and the 100% metal tang provide strength, power, control, and balance.
Chicago Cutlery is a brand that everyone trusts nowadays, with an affordable price this kitchen knife set is also considered one of the best of 2023. However, if you always cook steak in your house you might consider a steak knife instead. This is also easily one of the Best Kitchen Cutlery Sets out there.
| | |
| --- | --- |
| What we Like "Pros" | What we don't like "Cons" |
| wide variety of knives | Some rust if not maintained properly |
| Clean Design  |   |
| Very Sharp |   |
Product Description:
7-3/4 inches chef's knife
7-3/4 inches Serrated bread knife
7-inch Santoku knife
5-inch Santoku knife
5-inch Utility knife 
3-1/4 inches paring knife
4.5 inches Steak knives (8Total)
sharpening steel
Chop assist
Chestnut-stain woodblock
| | |
| --- | --- |
| Rating |   3.75 / 5  |
| Price | $149.99 |
This is a knife set that is suitable for professional chefs, beginner chefs, or household cooks. Firstly, the 9 piece set is made out of triple hardened steel, designed to cut through anything soft or hard. Secondly, the razor-sharp blades and resistance to stains and dust is a great advantage as well as the fact that it is offered with a carry case. 
This will be suitable for traveling which makes it the perfect Christmas present for you and your family. In conclusion, This is one of the Best Knife Sets for your Kitchen and outdoor activity.
| | |
| --- | --- |
| What we Like "Pros" | What we don't like "Cons" |
| Good Sharpness | Must be Sharpened Regularly |
| Carry Case for Easy Storage | The handle can Rust if not maintained properly |
Product Description:
One 14 inch Chef knife
One 14 inch Carving Knife
One 13 inch Bread knife
One 12.5 inch Utility knife
One 8 inch paring knife
One 12 inch boning knife
One 13 inch bread knife
One Sharpening steel Rod
One Meat clever
One Carving Fork
Heavy Duty Carry Case
| | |
| --- | --- |
| Rating |   4.25 / 5  |
| Price | $129.99 |
Japanese steel is famous for its stain and rust resistance quality, Sharp edges, and incredible strength.
This distinction makes Chikara Signature Series knives the choice of professionals. The amazing design makes the knife's handle exceptionally comfortable, and with the balance and power of the sharp blades, there is no surprise why this brand is a fan favorite.
The collection comes with a limited lifetime warranty. As a result, this masterpiece is definitely one of the Best Japanese Kitchen knife Sets available to purchase today.
| | |
| --- | --- |
| What we Like "Pros" | What we don't like "Cons" |
| Japanese steel |  Handles are a little unbalanced |
| Clean Design  | steak knife quality is decent |
| Great Value |   |
Product Description:
8″ chef's knife
5″ serrated utility knife
7″ Santoku
5″ utility knife
3.5″ paring knife
Four 5″ steak knives
honing rod
shears
block
Limited Lifetime Warranty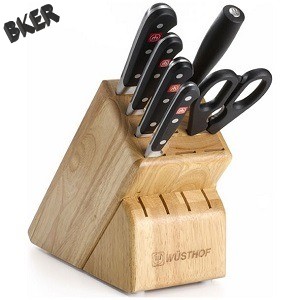 | | |
| --- | --- |
| Rating |   4.4 / 5  |
| Price | $699.95 |
This is the perfect knife set for professional Chefs or cooks who take their cooking very very seriously; this 12-piece cutlery set offers a selection of knives for everyday essentials with exceptional performance and durability.
Being "Made in Germany" and with the highest quality of material you can imagine, this Knife Set will simply last you for life.
The Wusthof is laser tested for precision, accuracy, and durability. Moreover, the exceptionally sharp knife of the Wusthof knife set and long-lasting cutting edge makes Wusthof one of the most successful brands in the entire world. This professional knife set is worth every penny as it has the durability and the quality of a one-of-a-kind cutlery set.
This one of the best Wusthof knife sets available you can have in your kitchen right now.
| | |
| --- | --- |
| What we Like "Pros" | What we don't like "Cons" |
| Strong Brand with exceptional Quality | Expensive "But Truly Worth it" |
| Limited Lifetime Warranty  |   |
| Very Sharp and durable knife set |   |
Product Description:
3-1/2-inch paring knife
8-inch bread knife
6-inch utility knife
8-inches carving knife
Four 4-1/2-inch steak knives
8-inch cook's knife
9-inch honing steel
kitchen shears
A storage block
Made in Germany
What to Look for in a Knife Set?
Buying the Best knife set can be tricky, of course, you will be bombarded and overloaded with lots of information about different brands with so many options. "Best Kitchen Equipment Reviews" recommends that you first try to pinpoint what you will use the knife set for first then decide on which knife set to get.
You can't go wrong with the above five choices as they will take care of all your needs. However, if you have a steak knife set already then you don't really need to buy an entire knife set. Remember sometimes less is more. We also highly advise buying a knife sharpener to maintain the sharpness of the knife sets. for frequently asked questions kindly check our FAQs section
Jamie Oliver on knife skills - 30-Minute Meals
In conclusion, these are some of the best Knife sets of 2023 and each will give you a unique experience in the kitchen. If you want to find more varieties of kitchen knife sets check out the Best Sellers of Block Knife Sets Now. If you are looking for the perfect Chef knife make sure you have a look at our complete review.
FAQs
What is the highest-rated knife set?
The Highest Rated knife set is definitely the Mercer Culinary Genesis 6-Piece Forged Knife Block Set due to its unique design and exceptional Sharp knife performance.
What are the best professional knife sets that chefs recommend?
If you look at the top chefs out there like Gorden Ramsey or Jamie Oliver, they recommend using Henckels or Wüsthof knives.
How much should a good knife set cost?
Depending on your budget you will find a good knife set but based on research we recommend buying a high-end knife set because you want it to last for a long time while maintaining a great condition, therefore, expect to spend between $100 to $200 for a great knife set.
Are expensive knife sets worth it?
An expensive knife set is definetly worth it, a Wusthof knife set is recommended by most home and professional cooks for a reason. You don't want to go cheap with a knife set and regret it later.
Is Wusthof better than Henckel?
Wüsthof knives are a little bit harder than Henckel knives, so they will stay sharper longer, but honestly, both are great knives and come with a limited lifetime warranty.
What is the best knife set with a block set?
Best Kitchen Equipment Reviews recommends the Mercer Culinary Genesis 6-Piece Forged Knife Block Set as the best knife block set for this year