Tomatoes are one of the most important ingredients in any kitchen today. Whether you want to make a healthy salad or a fresh tomato paste for the perfect pasta you need to have this amazing vegetable. Technically tomatoes are fruits but are considered vegetables by most nutritionists.
The best knife to cut tomatoes is the Rada Cutlery Tomato Slicing Knife. This is the perfect tomato knife for slicing and making the perfect cut every single time.
What is a Tomato Knife?
A Tomato knife is a knife designed mainly to cut tomatoes but could be used for other purposes as well. You can use it to cut lettuce, lemons, and many other foods. usually, a tomato knife is made to handle the thick skin and very fragile inside of a tomato. You might be thinking why can't I use any regular knife from my knife set in the kitchen; well, tomatoes are very delicate, and slicing a ripe tomato with a chef knife could ruin the entire meal.
Tomato knives have very sharp teeth and therefore you don't have to put any extra pressure that might ruin your perfectly cut tomato. Tomato knives are definitely worth it because they make your cooking experience much better.
The Next Best Option: Serrated Paring Knife
This is the next best option for you as you don't want to use any regular knife to cut your tomatoes. A Serrated paring knife isn't only good for trimming cake edges, it can also be used to cut tomatoes in your kitchen. Serrated paring knives are designed to cut through food with a hard exterior and a soft interior and this does apply to a tomato. It has a short blade like a tomato knife to offer you more control and grip when using this knife for the best execution every time.
Why is a Tomato knife forked?
A tomato knife usually has a forked tip so you can use it to pick up the cut tomato slices with ease. Be very careful as you can easily cut or poke yourself if not careful.
Is a Bread knife Good for Cutting Tomatoes?
A bread knife is sometimes recommended when dealing with large tomatoes, however, if you want to cut a small or mid-sized tomato we don't recommend using a bread knife as it might ruin the entire experience. Cherry tomatoes for example need to be handled with extra care and using a bread knife could be a recipe for disaster because you could either ruin the tomatoes or worse hurt yourself in the process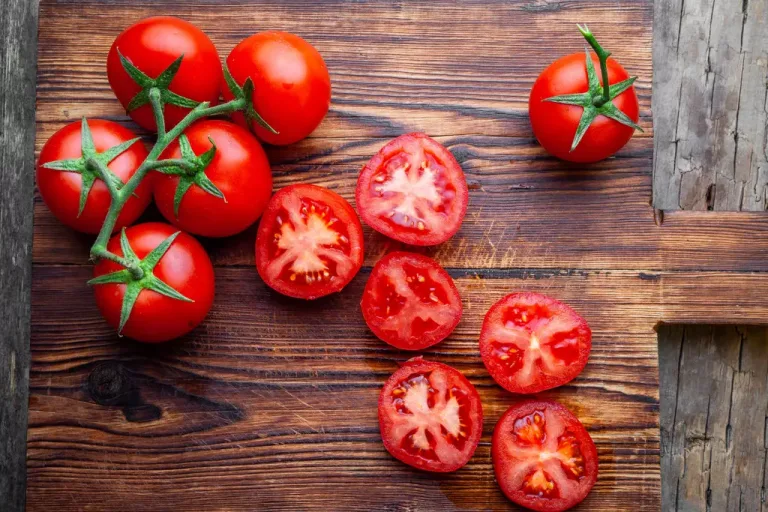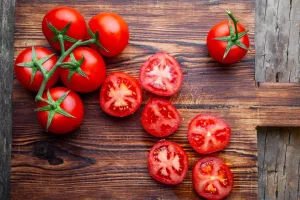 What is the best way to cut a tomato?
There is actually a right and wrong way to cut a tomato. Cutting a tomato the wrong way as highlighted in the video below will result in having a mushy mess. If you plan on adding a slice to a burger or adding some cubes to a salad you need to see the right way to do it.
You've Been Cutting Tomatoes Wrong This Whole Time
How to maintain a tomato knife
Tomatoes can cause a knife to become dull and possibly rust over time if not properly maintained. To keep your tomato knife just as new you need to keep it clean right after use in the kitchen. Citrus, as well as tomato juice, can cause a knife to go blunt after a while.
Therefore cleaning and drying your knife is critical to have a sharp knife for a very long time. Make sure your tomato knife is dishwasher safe before throwing them in there. We always recommend handwashing for maximum durability.
What is the tip of a tomato knife Used For?
A tomato knife tip is used to peel off the skin of a tomato without destroying the entire base of the tomato and have the tomato pulp gush out of it.
The Best Knives for Cutting Tomatoes
This knife set has established itself as a strong brand when it comes to tomato slicing and cutting. Rada has Stainless Steel Blade With Aluminum Handle and is Made in the USA. it's made from a dual serrated steel blade by a surgical-grade, T420 high carbon stainless steel.
The knife handle is a permanently cast silver brushed aluminum with a satin finish. The knife is dishwasher safe but it's recommended to be washed by hand. This knife will deliver phenomenal results and it's very good for its price.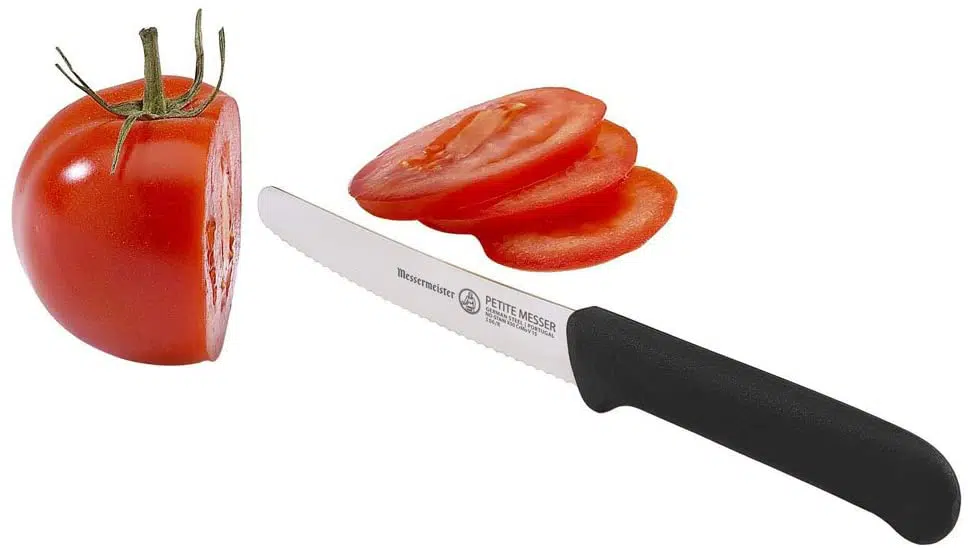 The second-best option for tomato knives is the Messermeister Serrated Tomato knife. It has a stainless steel blade and has a good grip when cutting tomatoes and other veggies.
As Messermeister is a women-owned non for profit environmentally friendly company, you will be cutting the perfect slice of tomato while helping make the world better. 

What can we say about Wusthof knives? Aren't they just perfect! With German quality stainless steel blade forged from one piece of metal and a Polyoxymethylene handle for a comfortable grip, this will be the perfect tomato knife for your kitchen.
It cuts through tomatoes like no other knife out there. The only downside is that it's a pretty expensive tomato knife but it's definitely worth the price.
A budget-friendly tomato knife that will deliver a great cooking experience. It's a standard tomato knife but comes with a very sharp blade to make sure you don't have any mess when cutting through any type of tomato.
If you are looking for a knife that gets the job done and durability is not a top priority for you then we recommend getting this knife. Be careful you cut yourself with this tomato knife if you aren't careful.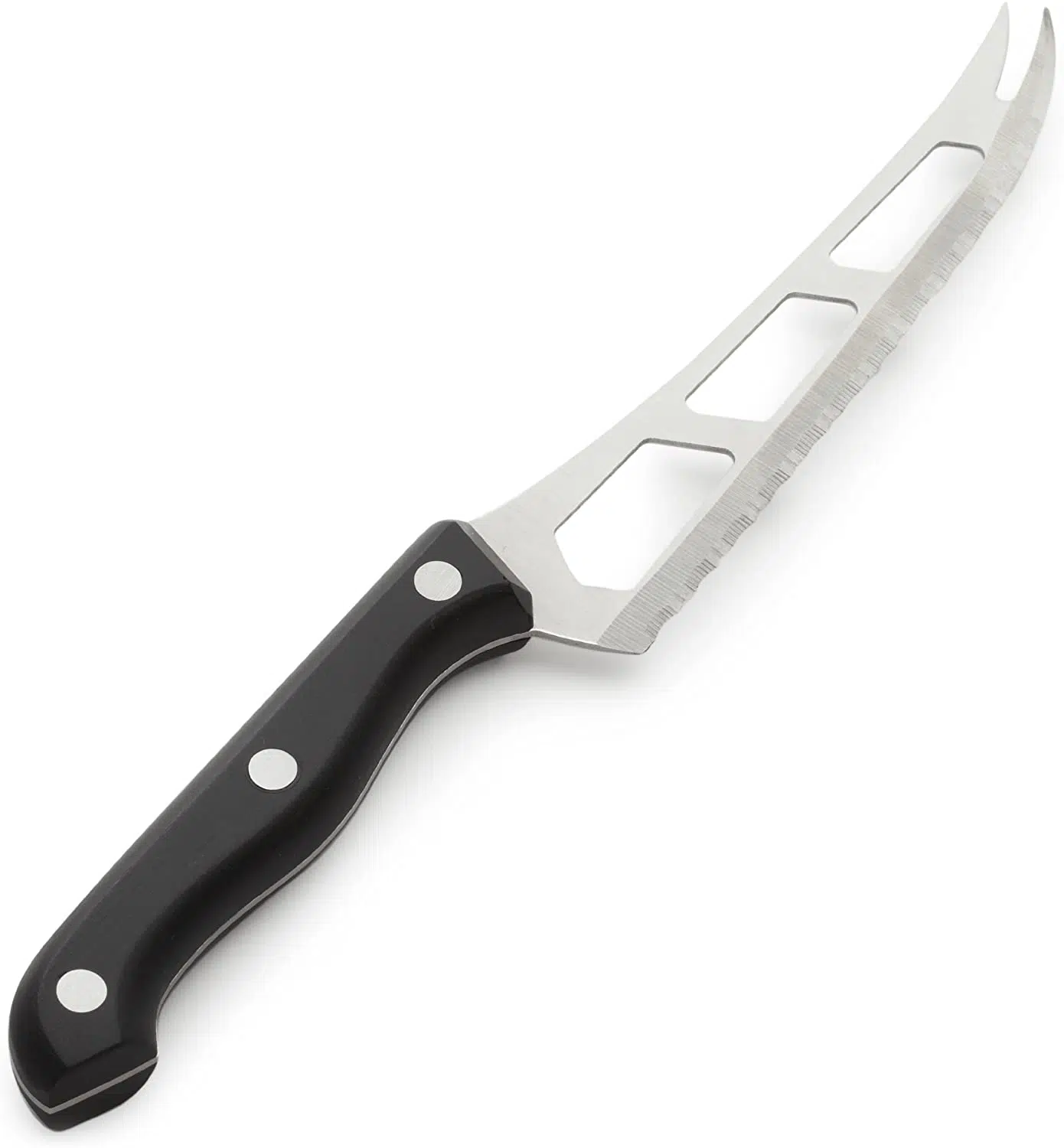 This is also a great choice to have in your kitchen as a tomato knife. Not only will it cut tomatoes producing great results, but you can also use it to cut a block of cheese into small pieces. The design and sharpness of the knife will make you cut through a tomato with ease. The holes in this knife are specially made in a way to reduce sticking when cutting cheese.
The handle isn't as good as the ones above. The Prodyne CK-300 Multi-Use Knife comes also with a stainless steel open surface blade and therefore this tomato knife came last on our list for the best Knife to cut Tomatoes.
Final Verdict:
choose a tomato knife that gets the job done with high precision, doesn't cost too much money, and lasts a lifetime. Based on these criteria we recommend having the Rada Cutlery Tomato Slicing Knife. Make sure you have a look at our recommendations for Chef knives and Steak knives. You can also upgrade your kitchen knife set to have the perfect meal tonight.